BOA running shorts are not just your typical performance running shorts. These shorts let you express yourself through its numerous loud designs. You'll be turning heads as they feature patriotic shorts and even those that feature images of your favorite food.
BOA shorts might have fun designs but this ain't your typical loud and colorful shorts. Their range of products is geared towards performance as well. Before we dive into their products, let's take a look at who BOA is as a brand.
The brand named B.O.A.
BOA was established in 1992 by David Fleming. David was a former runner himself and hold numerous records in the University he attended. After University, he started to work for multiple brands that focus on athletics apparel. After meeting his wife, David started to work on creating the perfect pair of split shorts. With Pamela's expertise on garments, the couple worked on several prototypes until they were finally able to achieve their goal.
David and Pamela have finally created the perfect pair of split running shorts, the BOA elite split shorts. The couple would then go on to sell their house in Boa Vista drive, to fund the business. Having a special place in their hearts, the brand was named BOA after the place where they used to live.
BOA as a brand is family-owned and all of its products are made in the United States of America. The brand encourages people to stand out when running and have fun while doing something you love. To read about them, here's a link to their "About Us" page on their website.
After introducing the brand itself and the people behind it, let's now have some fun! Here are 10 BOA running shorts bound to get heads turning.
BOA Shorts and Designs
Expressing yourself freely is a must when having fun and BOA is all about that. Here are 10 shorts that will not only grab attention but also let you run at your best.
For Men:
1. Stretch 1" 2-in-1 Split Run Shorts – "Gone Bananas"
Let's start with a pair that performs great and is an absolute beauty. They say real men wear pink and this design is a testament to that saying. Featuring a pink base with multiple banana prints, these shorts feature zero bounce pockets. These pockets can fit your wallets and phones plus they'll stay secure inside of it.
These running shorts also feature an inner compression brief that gives added support when running. Lastly, the fabrics used in these pair of BOA running shorts wicks moisture off your body for a cool and dry run.
2. Stretch Printed 3.75" V Notch – "American Flag"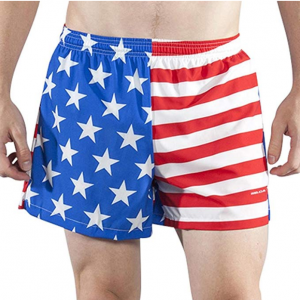 Feeling patriotic and wanted to represent your country, BOA has you covered. Featuring designs from different National flags, these running shorts will make you proud of running and your nation. Why not start with the western superpower, right? Star-spangled banner printed all over and features Hybrid Lite fabric that allows maximum movement.
These V notch shorts also feature adjustable waistbands so there won't be a squeeze when
you run.
Get BOA Mens Stretch 3.75″ V-Notch Running Short US Flag from Amazon. 
3. Stretch 1" Comfort Elite Split – "Beers 2 You"
Bottoms up! Here's a pair of shorts for those who love to run and have fun. These running shorts are not only fun but they keep you cool and dry when running. Featuring a soft waistband to help you be comfortable while running, these running shorts also allow for maximum movement.
This pair of shorts from BOA is perfect for those who love to party at the weekend as well as running every day.
4. Stretch 1" Stretch Elite Split Printed – "Galaxy"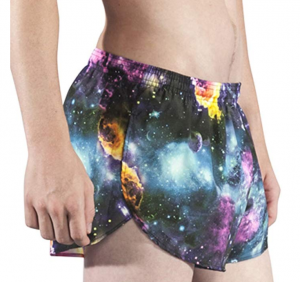 Are you a fan of space exploration or just into Galactic designs? These BOA running shorts are perfect for you! Featuring an ultra-lightweight shell, these shorts are a must for sprints and long runs. Hate that squeezing feeling when running? Then try these out as the BOA Stretch Elite shorts have elastic waistbands for added comfort.
What are you waiting for? Shine bright like the stars in the night sky when you run wearing this pair of running shorts.
Get BOA Mens Stretch 1″ Elite Split Printed Running Short – Galaxy from Amazon. 
5. Stretch 3" Printed Half-Split Trainer – "Taco!"
Excited for Taco Tuesday? Why not sweat it out so you can munch on more tacos in the evening! To fully complete the look, why not try purchasing the Stretch Half Split Trainer adorned with taco prints. These running shorts also feature key pockets and a 3" inseam for added modesty. The "Taco!" half-split trainers also share the same moisture-wicking fabric that allows you to stay cool and dry.
Get BOA Men's Stretch 3″ Printed Half Split Trainer – Taco! from Amazon.
For Women:
1. Stretch 1" Elite Printed Split – "Yellow Chili"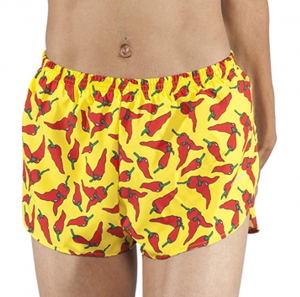 Perfect with those who are spicy and feisty, these running shorts takes things to a new level. Featuring a yellow base with chili prints, this will turn heads when you run past them. Made from light flexible materials, these BOA shorts let you run without restrictions.
Lastly, the Stretch Elite Splits feature an elastic waistband and a pocket to store your keys.
Get B.O.A Womens Stretch 1″ Elite Split Printed Running Short – Chilli from Amazon. 
2. Stamina Stretch – "Neptune"
These are the perfect run shorts for all the women who both love running and the wonders of space. The Stamina Stretch running shorts are not only for performance but these shorts have an added touch of comfort.
These shorts stretch to movements that allow maximum movement when running. Lastly, the Stamina Stretch shorts have pockets where you could keep your keys.
3. Stretch Printed Split Trainer – "Flamingo"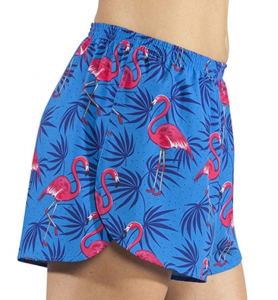 Named after a head-turning bird, these shorts are a showstopper. Mixing a dark green base with patters of flamingos and leaves, this is for those who want fashionable running shorts. This pair from BOA has all the right materials that allow runners to perform at their best when running. Lastly, these feature a longer inseam for modesty and extra cover.
Get BOA Women's 1.5″ Stretch Printed Split Trainer – Flamingo from Amazon. 
4. Playa 5" Soft Waist – "Euphoria"
Some women are not comfortable with wearing shorts that have very high seams. If you are one of them, then the Playa 5" "Euphoria" running shorts are perfect for you. Featuring a soft and flexible material, these shorts are great for people who want modesty and cover. Hybrid lite and a Power X soft waistband make this one of the more comfortable running shorts in the market.
In need of storage for keys, cards, and money? Don't fear, these shorts have 4 built-in pockets so you don't have to worry about anything.
5. Fit Short – "California"
Represent the southwestern state of California by purchasing one of these. Built for all-around use, these running shorts can also be worn when working out. Made from stretchy materials such as spandex, the Fit shorts allow extra movement with added compression.
If you are from California or want to one day visit the state, the BOA Fit 'California" running shorts are for you.
Get BOA 2.5″ Compression Fit Booty Short – California from Amazon.