Mixing and matching clothes for the perfect workout outfit can be tough, most especially when you don't have the right colors.
When it comes to clothing, there's no color more versatile than black. 
Why? It's easy to accessorize, it flatters all skin tones, and it has never once gone out of style in the history of fashion. 
Going with black is one of the easiest and
safest ways to look classy without all the unnecessary extra effort. 
Basics are always a good option to buy to start building your outfits. Here are our top 20 picks for stylish black running shorts for your next run. 
1. Lululemon Women's Run Speed Shorts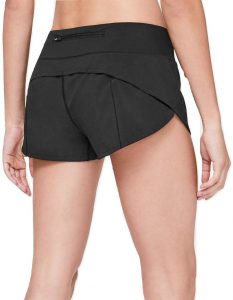 Lululemon manufactures comfortable and stylish running shorts for active women. 
Their Run Speed Shorts come with multiple functionalities such as back zipper pockets, moisture-wicking four-way stretch, and a comfortable lightweight liner.
Because of its classic black color, this pair of shorts is great for casual wear during spring and summer.
Get Lululemon Run Speed Short here.
2. Nike Women's 10k Running Shorts
This 100% polyester running shorts are blended with NIKE's Dry fabric that helps runners stay dry and comfortable throughout their workout. 
The simple yet stylish design makes them perfect for the gym and everyday wear. 
Get Nike Women's 10k Short here.
3. Adidas Women's Running M10 Shorts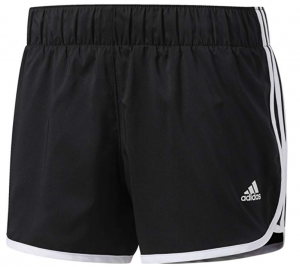 Look good and feel good with the women's Running M10 Shorts by Adidas.
These fashionable running shorts sport the classic Adidas three-stripe design we all love and are made with Climalite materials that help keeps you cool and dry throughout the day. 
The black Adidas running shorts sport either a blue or pink highlight that makes this simplistic design all the more flattering. 
Get Adidas Women's Running M10 Shorts here. 
4. Men's ASICS Split Shorts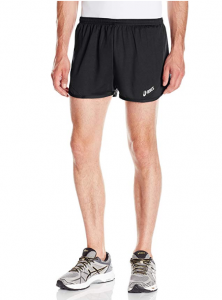 Basics are an essential part of any wardrobe, and what better with the Men's Asics Split Shorts. 
The Asics 3-Inch Split Shorts are designed for running performance and offer versatility. 
It's thin polyester fabric and relaxed fit prevents the running shorts from sticking uncomfortably against the skin. 
Get ASICS Men's Rival Ii 1/2 Split Short here. 
5. New Balance Women's Accelerate Shorts
The New Balance Women's Accelerate Shorts come in a size that's just right for taller and curvier women. The extra length provides great coverage and a free range of movement. 
The built-in brief and shorts material is silky soft and guarantees to prevent chafing.
These running shorts feature a sleek and stylish woven body that compliments any runner's legs beautifully.
Get New Balance Women's Accelerate 5″ Short here.
6. Rogue Women's Runner Shorts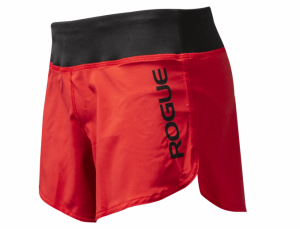 Nothing could fit the words 'fashionable and functional' more than the Rogue Women's Runner Shorts. 
Not only are these running shorts attractive, they are of great quality too!
The best feature we love about these running shorts is that whether you're sitting down, doing squats, jumping, or running, the extra inches on the inseam prevents you from accidentally revealing skin.
7. New Balance Men's Impact 3" Split Shorts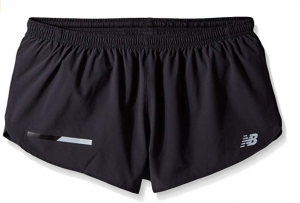 New Balance's Impact 3-Inch Split Shorts are a must during your summer runs. Not only are they comfortable to run in, but it also comes with a big enough zippered back pocket for your phone. 
These marathon split seam quality running shorts are built for long strides. 
For men that are regularly active and love showing off their athletic bodies, these running shorts will compliment and show off your backside and thighs. 
Get New Balance Men's Impact Split 3″ Short here.
8. Brooks Women's Go-to Running Shorts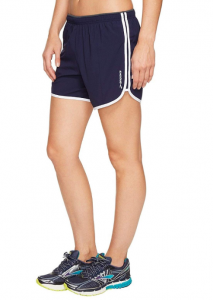 Achieve your record-breaking speed with the Brooks Women's Go-to Shorts. 
These mid-rise running shorts follow the contours of the body and are perfect for women looking for longer lengths during their run without looking frumpy. 
This simplistic yet stylish design is perfect for pairing with louder colored tops. 
Get Brooks Women's Go-to 5″ Shorts here.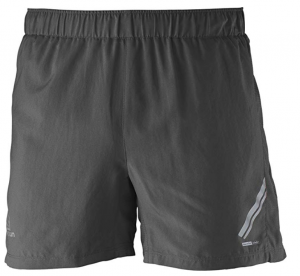 The extremely lightweight and flexible Salomon Men's Agile running shorts are built to perform and withstand long-distance running on the most humid of days. 
Not only are these running shorts sleek and stylish, they are also equipped with advanced skin active dry technology that whisks away sweat, rain, and even dirt and mud. 
Get  SALOMON Agile Shorts Mens here.
10. ASICS Women's Pocketed Shorts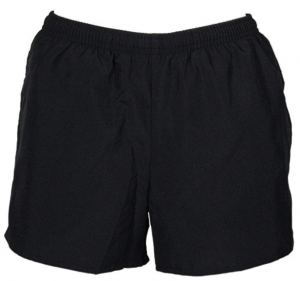 The pockets are everyone's favorite feature about these running shorts. They're big enough to hold your phone and other small items while you're on the go. 
These lightweight and durable running shorts are also made from 100% polyester blend and have wrinkle-free and quick-drying features. 
While the Asics Women's Pocketed Shorts may come in multiple colors, we find that the black option completes any workout look the best.
Get ASICS Womens Pocketed Short here. 
11. Men's NIKE DISTANCE 9″ SHORTS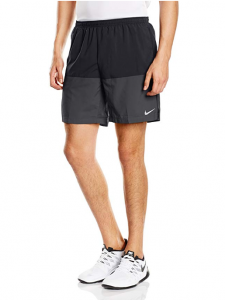 NIKE's distance shorts are known for their Dri-FIT technology that keeps you cool and dry during your long-distance runs. 
These running shorts have a fitted inner short and relaxed-fit that provide comfort, support and ventilation. Each side also has a small split that allows your leg muscles to extend and flex. 
NIKE's designs have always been iconic for its minimalistic designs and famous checkmark logo. 
Get Nike Mens Nine Inch Distance Running Shorts here.
12. Brooks Men's Cascadia 7" Black Running Shorts
Thanks to the DriLayer moisture-wicking fabric, the Brooks Men's Cascadia 7 Inch running shorts will keep you cool and dry over temperatures of sixty-five degrees. 
What sets these running shorts apart from other brands is the generous pocket sizes big enough to fit your smartphone but prevents it from bouncing around during your run. 
Furthermore, these running shorts work well together with any sportswear and can be used for other activities too.
Get Brooks Men's Cascadia 7" Black Running Shorts here. 
13. Under Armour Women's Fly-By Shorts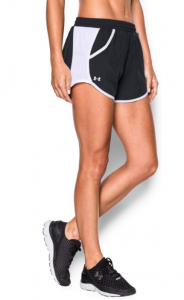 The Fly-By Shorts are Under Armour's best sellers for a reason. 
These running shorts are form-fitting without necessarily being tight.  Additionally, the cut and shape are also flattering on the runner's body. 
Complete your #OOTD with these stylish form-fitting running shorts.
Get Under Armour Women's Fly-By Run Shorts here.
14. 2XU Women's Mcs Run Compression Shorts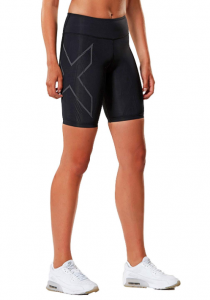 At first glance, we can already tell how great these running shorts look. 
What makes them even better is the MCS (muscle containment stamping) mapping that's targeted to help reduce strain and muscle sores in specific areas.
The 2XU Women's MCS Compression Shorts are made especially for people looking for higher intensity training. The sleek-looking 'x' logo is also reflective, giving better visibility during night runs and dark areas. 
Customize your workout #OOTD by choosing from a variety of different lengths.
Get 2XU Women's Mcs Run Compression Shorts here.
15. Brooks Men's 7 Inch 2 in 1 Black Running Shorts.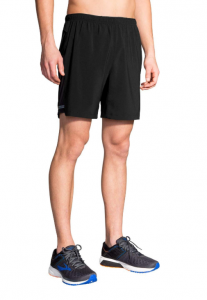 This breathable polyester-spandex blend is snug and the compression like liner surpasses mesh liners in terms of support. 
The Brooks Men's 7-Inch two in one running shorts now comes with an upgraded pocket space compared to the Essential two in one. 
These running shorts are comfortable, well designed and of high-quality material. We love how they're also stylish enough for regular day-to-day wear. 
Get Brooks Men's Sherpa 2-in-1 7 Inch Shorts here.
16. Joe's USA Ladies Track & Field Running Shorts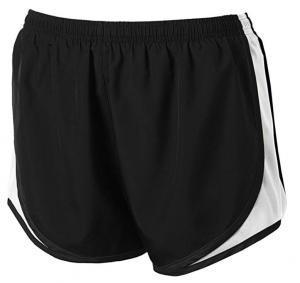 Old school is back in style!
These black running shorts sport a cute and classic athletic look. Choose them for high-performance moisture control!
The ladies track & field running shorts made by Joe's USA are breathable and lightweight and comes in an assortment of colors. Of those, however, black is definitely our color of choice!
Get Joe's USA Ladies Moisture-Wicking Track & Field Running Shorts here.
17. New Balance Men's Transform 2-IN-1 Shorts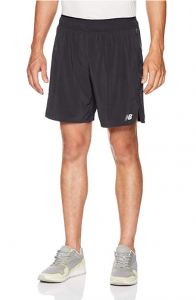 Thanks to its elasticity, the New Balance Transform 2-in-1 shorts help you enhance your overall performance and give you a wider range of motion.
This is a must-have for men who strive to take on longer runs and training sessions. 
As these running shorts fit your standard basic designs, they are perfect for runners who prefer less flashy looks.
Get New Balance Men's Transform 2-in-1 Short here. 
18. ASICS Men's 2-n-1 Woven Short 6″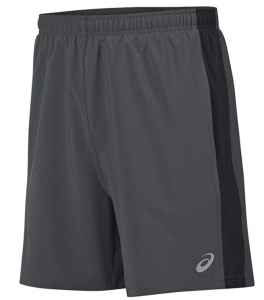 The Asics two in one woven five-inch shorts are made with an inner layer that breathes and supports you throughout your run. 
These running shorts are simplistically designed in a way that makes any running outfit perfect for your next #OOTD post. 
Get ASICS Men's 2-n-1 Woven Short 6″ here.
19. Adidas Women's Run It Shorts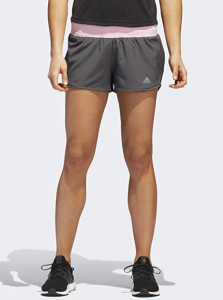 The Adidas Women's Run It short's slim fit and close cut to the body make it very flattering to the wearer.
These black running shorts are designed to stay in place and prevent chafing during workouts, allowing you to better perform and go longer. 
Get adidas Women's Run It Shorts here.
20. Salomon Women's Agile 2-in-1 Shorts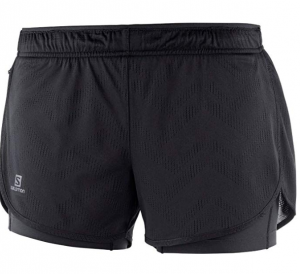 The Solomon 2 in 1 stretch running shorts provide a layer of compression underneath, along with a breathable outer layer with reflective details. 
Furthermore, these quick-drying running shorts come with a flat waistband that won't chafe or bind when you move, along with an adjustable cord that lets you adjust the fit.
Enhance your sporty look effortlessly with this all-black design!