While liners in running shorts are to included to provide additional comfort and support for runners, some people find them unnecessary and uncomfortable. Some runners find them to be a waste of fabric and added weight that makes running more difficult.
If you have trouble finding a good pair of running shorts to use during your workouts, consider any one of these top 10 most comfy running shorts without liners. 
1. Brooks Men's Fremont Linerless Running Shorts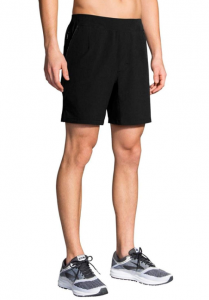 Your afternoon runs have just been made easier with these Brooks Fremont linerless running shorts for men.
These lightweight running shorts without liner are made from a stretch-woven fabric that wicks away moisture easily. They are also equipped with zippered front pockets for easy and convenient storage. Other features on these running shorts include both front and side retro reflectivity.
Check the latest price and Read more reviews here.
2. Janji Transit Tech Men's Running Shorts 
The Janji transit Tech Men's running shorts are a pair of stretchy, streamlined, and weather-resistant men's running shorts that deliver versatile performance.
These linerless running shorts are lightweight and breathable to allow runners to push their limits without feeling uncomfortable. A bonded hem seam prevents chafing.
3. Vuori Men's Ponto Shorts 
These soft, liner-less and flexible running shorts are built for ease of movement. 
The running shorts are ideal for long-distance running and heavy exercises that involve great deal of movement. Features included in these men's running shorts are an elastic waistband and a signature drawcord for an extra-comfortable fit. 
Its front zip pockets are also handy for securely storing small items such as keys, and cash. 
4. REI Co-op Active Pursuits Shorts – Men's 9″ Inseam
These polyester and spandex blend men's running shorts feature four-way stretch fabric and wicks away moisture to keep you cool and dry during your runs. 
REI Co-op stopped producing lightweight nylon cargo shorts with liners a while ago. Now, it makes use of an elastic waistband and flat seam construction that ensures the shorts stay in place and effectively prevents chafing. 
5. Salomon XA Training Shorts – Men's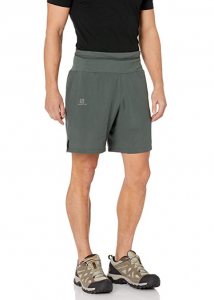 The best feature of the Salomon XA Men's training shorts are the 360-degree storage system that helps any runner carry their gels, keys, cash, cards, etc. more securely at your waist. 
These linerless running shorts also feature a lightweight AdvancedSkin ActiveDry technical fabric that dries quickly to allow better breathability in warmer conditions. 
If you're looking for a pair of liner-less running shorts for with great storage capacity, consider getting the Salomon XA Men's running shorts. 
Check the latest price and Read more reviews here.
6. Arc'teryx Aptin Shorts – Men's
These cross-functional, unlined Arc'teryx Aptin running shorts are excellent for trail running and long-distance runs. 
These liner-less running shorts feature a lightweight and breathable fabric that enables better ventilation for a cool and comfortable run. The internal media pocket inside the right-hand pocket has a built-in media port for runners who want to listen to music during their workouts. 
The flatlock seams lie flat for added comfort and comes with an adjustable drawcord to easily achieve the perfect fit. Its logo also comes with a reflective covering, making it viable for night running and low-light situations. 
7. Vuori Halo Performance Shorts – Women's
Go beyond your limits with the Vuori Halo Women's performance running shorts. 
These liner-less running shorts are made from a stretchy knit fabric that wicks away moisture to keep you cool and comfortable, even on the hottest of summer days. 
Features on these women's linerless running shorts include a drawcord for an adjustable and comfortable fit, and a simple yet stylish sports design that's easy to dress up or down. 
8. Janji Transit Tech Shorts – Women's
These women's liner-less running shorts are made from an excellently structured four-way stretch fabric that comes with a durable water repellent (DWR) finish. 
Its liner-less design allows you to deal with less fabric and a lighter feeling from the cloth during your runs. Some features that come with these linerless running shorts are two open hand pockets with zippers designed to keep your smartphones and other valuables from bouncing around. 
The minimal elastic waistband and external-facing drawcord with dipped ends ensure easy adjustments at any time during your run. 
A fun fact about the Janji brand is that they donate five percent of each sale to nonprofit organizations that work on viable clean-water projects all around the globe. 
9. Janji 6″ Transit Tech Shorts – Men's
Wherever you choose to go, the men's Janji Transit Tech running short is ready to provide full support and improve your performance at any time through any trails. 
These lightweight and breathable shorts are linerless, which allows runners to worry about less fabric getting in the way of their workouts and provides easy wearing comfort.
Not only do these linerless running shorts feature quick-drying technology but they also come with an Ultraviolet Protection Factor of fifty that helps shields you from harmful UV rays during your workouts. 
A great feature about the pockets on these linerless running shorts are the integrated key loop bungee stash on your belongings. The zipper feature also helps keep your items in place and prevents them from bouncing around. 
10. Nike Flex Vent Max 2.0 Shorts – Men's
Move with complete and absolute freedom and ease with the one and only Nike Flex Men's Vent Max 2.0 Running Shorts.
The eight-inch seam feature on these linerless running shorts falls just above the knees and the special stretch-woven fabric ventilates the temperature around your skin to allow for a cool and comfortable experience throughout the day. 
---
These men's linerless running shorts come with a quick-drying and moisture-wicking feature to keep you cool and dry throughout the hottest days of the year. 
These simple yet stylish running shorts are made with the most durable embossed waistband that guarantees the most comfortable wearing experience even during the most intense workouts.