Athleta is an activewear company that mainly creates clothing for women. The brand tailors to various activities such as running, cycling, hiking, yoga, volleyball, and swimming.
Because most of these activities are held outdoors, there is a need to keep athletes protected while staying active under the sun. That is why Athleta features an Ultra Protection Factor (UPF) in their clothing. 
The fabric used for most of Athleta's clothes, especially their athletic shorts, is rated UPF 50+ which provides excellent protection from the sun. This ensures that harmful ultraviolet (UV) radiation will be effectively blocked. They also use recycled and sustainable materials that are good for the environment. 
Listed below are ten Altheta running shorts that are guaranteed to protect you from the sun. 
1. Racer Run Shortie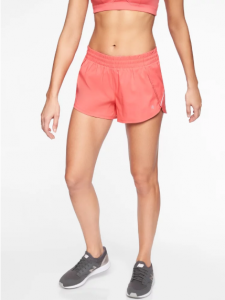 The Racer Run Shortie is lightweight and feels barely there. It is ideal for hot and sweaty workouts because it uses a silky, ultra-light fabric that almost feels like a second skin.
This supremely sleek fabric is made from Recycled Poly (post-consumer plastic bottles) that is good for the environment. Not only that, but this particular pair is also water-repellent, making it an excellent choice for water exercises.
If you prefer relaxed shorts with shorter lengths, this is a good choice. Racer Run Shortie has leg openings that offer plenty of room to run and also provides easy access to your essentials. 
2. Hustle Short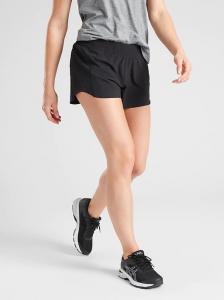 These silky sleek shorts are perfect for long-distance, short-distance, and trail runs. It features a Recycled Featherweight Stretch fabric that feels as light as air.
Its quick-drying, breathable fabric ensures ultimate comfort as any sweat evaporates rapidly. This pair is wrinkle-resistant so it stays smooth throughout the day. The Hustle shorts use Lazer cut ventilation to help keep you cool while you're running or working out.

The lining underneath the short effectively eliminates any flash factor. Best of all, its waistband is fully adjustable and even has a hidden key pocket. 
3. Printed Mesh Racer Run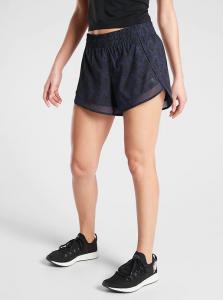 The Printed Mesh Racer Run boasts mesh ventilation at the bottom hem to cool you off during long runs. The sustainable Recycled Featherweight Stretch fabric feels smooth and sleek.
The fabric is breathable so sweat can travel and evaporate on the surface. It also dries quickly so you can stay comfortable even when you're pespiring. These shorts guarantee no thigh chafing.
The Printed Mesh Racer Run comes in different prints or designs. It even has a sneaky reflectivity detail that only draws attention to itself in the dark. There is also a zip pocket located on the side that helps to secure your stuff during activity.
4. Running Free Colorblock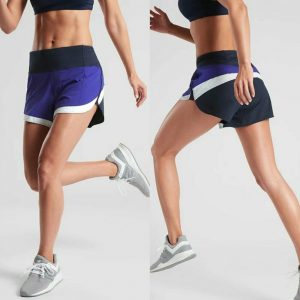 These running shorts are a comfortable fit for everyday activities. Running Free Colorblock is of the perfect length for long-distance runs, short distance runs or trail running.
Its lightweight fabric features back ventilation for better circulation cooling airflow. These shorts have passed the humidity and sweat test, so they won't get you down even during the hottest of days.
A built-in brief helps to prevent avoid accidental flashing, while two drop-in pockets in front of the waistband and a back pocket keep your essentials secure. At its side, reflective details are present to help you stay visible in low light. 
5. Running Free Short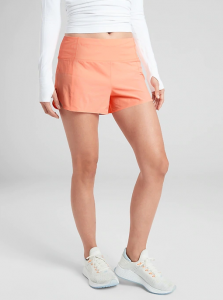 The Running Free Short is a great choice for running. Its length is just right so it does not ride up during your workouts. The waistband is also high enough and not too tight. It hugs your waist and flows perfectly over your legs and thighs.
These sustainable shorts can be worn on a very humid day without any chafing problems. Its breathability ensures quick drying. The secure back pocket and two drop-in pockets in front of the waistband hold your stash securely for you. 
6. Mesh Racer Run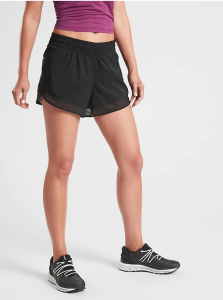 These sustainable running shorts are made from a silky light Fleet fabric that feels smooth on the skin. This fabric wards off rainy day conditions with its water-repellent feature.
The Mesh Racer Run does not ride up and stays put during your toughest workouts. Its no-slip, elastic waistband ensures no tugging so you can focus on bettering your performance. It also has targeted mesh ventilation to keep you cool.
Rest assured that you'll feel safe while running because of the reflective details on the shorts. Two pockets – a secure zip pocket and hidden key envelope pocket – provide more storage. 
7. Lightning Short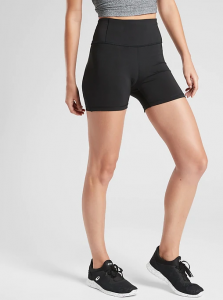 The Lightning Shorts are made with a sustainable recycled nylon, a high-performance material that helps lessen our negative impact on the environment. It has a SuperSonic fabric that is sleek and lightweight, enhanced with a supportive compression on the skin.
Equal parts soft and breathable, these wicking shorts pull sweat away from the body so it can evaporate faster. It also dries in a flash to provide ultimate comfort while running.
Lightning Short has side drop in and zip pockets on the waistband to secure your small essentials. 
8. Velocity Short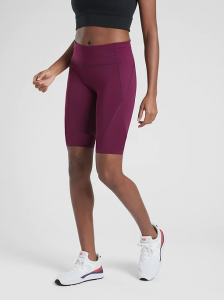 The Velocity shorts use Swiftlife fabric that feels cool and silky to the touch. This type of breathable fabric lets sweat travel so it can evaporate on the surface. It is great for hot and humid summer runs because it is sweat-wicking and quick-drying.
These fitted shorts feel like they are "barely there" on your body. There is an interior drawstring that allows you to customize your fit according to your preferences. Its high cut is flattering and zip pocket at the back keeps your essentials in place. 
9. All In Short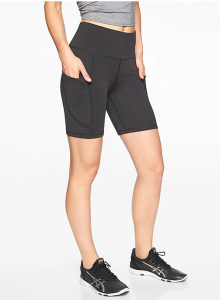 All In Short has a Breathable CoolMax crotch gusset that keeps you cool from sweat while running. Its Sculptek Light fabric feels smooth in your hand and appropriately stretchy on the body. They stay put and do not rub against your thighs in an uncomfortable manner  like some other shorts.
All In's no-flip waistband also won't roll during runs or workouts so you can focus more on your performance. These shorts feature four pockets for plenty of storage – one side stash, one side stash with additional secure-zip and one hidden waistband. 
10. Ascender Short
These stylish and functional shorts are ideal not only for running but also for hiking, climbing and exploring on or off the trail. The Ascender uses a Recycled Featherweight Stretch fabric that feels silky sleek and light as air.
Its supportive SwiftLite fabric waistband with mesh lining holds you in comfortably. You can also stow your jacket at the stash compartment in the back of the waistband.
Aside from that, Ascender shorts also has two side pockets and one back secure zip pocket. These are great, flattering shorts for a streamlined look.