Design: Best Running Shorts
Aesthetics aren't everything, but they sure mean a lot when it comes to clothes – running shorts included. A good design should have the ability to attract buyers, and is also easy to use.
What Are The Different Types Of Running Shorts? 
Before buying a pair of running shorts, it's essential to know the types that are available: compression running shorts, v-notch running shorts, and split-leg running shorts.
| | |
| --- | --- |
| Design Of Running Shorts | Description |
| | Compression shorts fit snugly to the body: apart from ensuring your running shorts stay in place, this also helps increase blood flow to the muscles and effectively prevent oscillation during impact. |
| | The "v-notch" essentially refers to the shape of the cutout (an upside down "V") that lie on the exterior seams. This V-shaped cutout allows for greater flexibility and range of movement. |
| | Split-leg running shorts have a front panel that overlaps the back. Unlike V-notch running shorts, the "V" on the side of these shorts are not sewn together. |
Best Running Shorts For Different Activities
Short Distance Runs
Short distance runs make use of short, sharp bursts of energy to propel the runner forward: go with these resistance-minimizing yet protective options for your most amazing sprint yet.
---
Premium Pick
---
PUMA Men's Collective Sweat Shorts
Best Value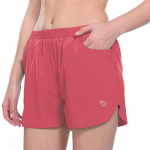 ---
BALEAF Women's 3″
Running Shorts
Marathons
Blaze along the trail with these sleek, frill-free choices that promise lighter runs and better performance.
---
Best Choice

---
Adidas Women's Run It Slim Shorts
Premium Pick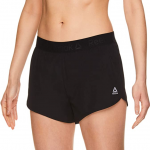 ---
Casual Wear
Flaunt your sense of fashion with these aesthetically pleasing running shorts: light and fast-drying, they're perfect for any occasion.
---
Outdoor Activities
Protect your skin from bruises and scars: these well-crafted running shorts make ideal companions for even the most intense of outdoor activities.
---
Best Choice

---
Nike Fast Women's Running Shorts
Best Value

---
Frequently Asked Questions About Types Of Running Shorts
1. Should I Get 5 Inch Or 7 Inch Running Shorts?
5 inch running shorts are a great choice if you want the best of both worlds: the flexibility that comes with 3 inch running shorts, plus the protection that comes with 7 inch running shorts. 7 inch running shorts are great for activities like trail running because they offer protection from dirt, debris and the like.
2. What To Wear Under Running Shorts?
As running shorts usually come with built-in liners, there is no need to wear underwear (like you would for your other clothes) underneath. In fact, it's actually more uncomfortable running with underwear than without!
3. Why Wear Compression Shorts For Running?
Compression running shorts typically don't ride up and stay in place throughout your runs. They also reduce muscle strain and prevent fatigue, and can be very comfortable as there is no chafing from the constant rubbing of fabric against skin.