Having to endure tight-fitting and uncomfortable clothes when exercising is a real problem.
But having to endure tight-fitting clothes when exercising, while pregnant, is an even bigger problem.
Staying fit and healthy during pregnancy does a lot of good not only for a healthy baby but also for the expectant mothers to have an easy labor.
We compiled a list of 20 maternity running shorts, so staying active is no longer a problem for the soon-to-be mothers.
1. Maternity GapFit 3.5″ Running Shorts
We are not just talking about running shorts here. We are talking about maternity running shorts.
One of the criteria that determines whether or not a running shorts pass the maternity running shorts test is the type of garment used.
It is ideal to stick to natural fibers when choosing maternity running shorts. Some examples of natural fibers are cotton, lycra, and spandex. These types of garments are specifically breathable and stretchable.
The Maternity Fit 3.5″ Running Shorts from Gap is made of 88% polyester and 12% Spandex. It has a drawstring that you can either tighten or loosen depending on the size of your bump.
2. Old Navy Maternity Rollover-Waist Yoga Shorts
The Old Navy Rollover Maternity running shorts has an elasticized waistband. It has soft, breathable material that adds extra comfort.
One tiny detail of this brand of shorts that soon-to-be mothers will love is, they removed the tag on the back.
It's perfect for pregnant women who especially have delicate skin that wants to stay away from itchy material as much as possible.
3. Champion's Women Jersey Shorts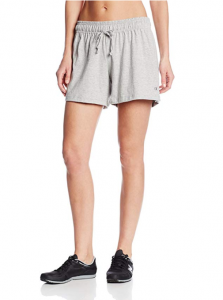 These loose and flowy pregnancy running shorts is 100% cotton.
As if GapFit and Old Navy Rollover shorts were combined, this one is tag-free with a drawstring closure that you can also adjust.
Get Champion Women's Jersey Short from Amazon. 
4. Bhome Maternity Shorts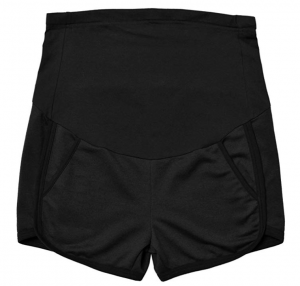 Pregnant women hate running shorts that slip or dig in the belly.
And so they will love this Bhome Maternity Shorts that is perfect not just for a workout but also for daily wear.
Plus, it has a hidden adjustable garter that gives Bhome extra points.
Get Bhome maternity shorts from Amazon.
5. Foucome's Maternity Shorts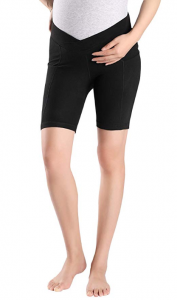 Foucome's maternity running shorts have a low rise V-shaped waistband.
This is a nice feature unique only to Foucome.
With a V-shaped waistband, you won't feel any discomfort during any form of exercise.
Get Foucome Maternity Shorts from Amazon. 
6. My Bella Mama's Maternity Cotton Shorts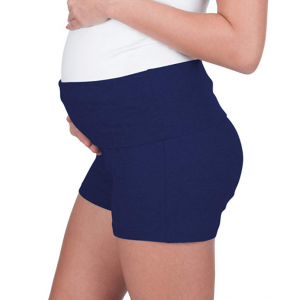 Roll up or roll down?
You decide with Bella Mamma's Maternity cotton short.
It has a versatile stretchy fold belly panel that comes in black and blue colors.
Get My Bella Mama Maternity Shorts from Amazon. 
7. For Two Fitness' Superstar Maternity Studio Short
The Superstar Maternity Studio short has a long 5-inch inseam.
This brand uses a special fabric called Supplex that pregnant women will love for it's soft and cozy feel.
8. Motherhood Maternity Running Short
These running shorts are made of stretch fabric that is best as comfortable wear.
These shorts have a flattering fit. It's made to last for the whole duration of pregnancy and even after.
9. Namaste Maternity Yoga Shorts
Breathable fabric? Check.
Figure-hugging but comfortable? Check
Ideal for moving and stretching? Double-check.
These brand of shorts has a lot to offer to the expectant mothers.
10. Lululemon Align Shorts 6''
Like most Lululemon products, the Align Shorts is made of ultra-soft material.
The material hugs thighs only as much that it is not ill-fitting and uncomfortable.
Even at post-pregnancy, these shorts can still be used during a yoga session.
The belly support has a secret pocket.
Maybe that's not so secret anymore.
11. Pinkblush Black Foldover Maternity Shorts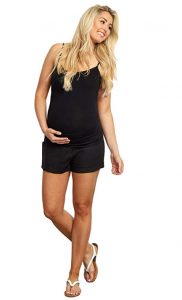 Pinkblush has a wide collection of clothes for soon-to-be mothers.
They have a full catalog of Maternity Wear from daily wear to activewear and even maternity workwear.
One example is this pregnancy athletic shorts from made of a 3-inch inseam, 92% cotton, and 8% spandex.
Get PinkBlush Maternity Black Linen Foldover Waistband Shorts, Medium from Amazon. 
12. Pinkblush Lasercut Pocket Active‌ Maternity Shorts
Bellies get bigger and bigger on each passing week.
A good maternity running shorts should leave extra space for the belly area.
These shorts leave a lot of ream for the growing belly.
13. Pinkblush Black Solid Maternity Bike Shorts
As you would expect in bike shorts, these maternity shorts from Pinkblush has a long 5 1/2 inseam.
It has a breathable fabric that helps regulate body temperature as it is made of Nylon material.
14. ASOS 4505 Maternity Shorts
Another rule for maternity running shorts is, of course, one that provides stomach support.
The ASOS‌ new activewear range has a wide collection of athletic maternity clothes including this over-the-bump 4505 Maternity running shorts.
15. 2XU Active maternity short
The dedicated athlete who is having a pea in the pod shouldn't have second thoughts with the 2XU's Active Maternity Shorts.
The 2XU has a long inseam and over-the-bump belly support for the more athletic soon-to-be mother.
16. Athleta Racer Run Shortie
Another must-have feature of maternity running shorts is one that allows for a wide range of motion.
The Athleta Racer Run Shortie is made of comfortable loose-fitting fabric that will stand any kind of stretching routine even with a bump on the way.
17. Brooks Go-To 3 inch short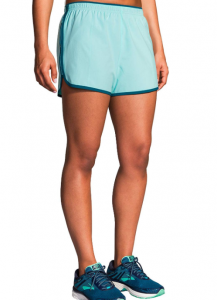 Spandex-type of running shorts is extremely uncomfortable for some women.
Chafing is a common problem for figure-hugging maternity activewear and other maternity workout clothes.
With Brooks Go-To running shorts, it won't be a problem anymore.
These maternity running shorts have loose-fitting material which allows for an unrestricted movement.
Get Brooks Go-To 3″ Short from Amazon. 
18. Oiselle's Long Flyout Shorts
Talk about fashion even in pregnancy!
Oiselle's Flyout Shorts has an airy design in its side seam made to look and feel comfortable even in a spandex material running shorts.
It comes in 3 colors: smoke, douglas fir, and black.
19. Running Shorts by On
While not categorized as maternity wear, these running shorts should belong in the list.
These running shorts by the On brand have a minimalist design, lightweight and fast-drying material.
It has a double-layer; an inner tight layer that provides support and an outer fabric that gives away and aesthetic and fashionable feel.
20. Sweaty Betty Contour Workout Shorts
Last and not least is Sweaty Betty's Contour Workout Shorts.
Like the previous shorts, this too is not categorized in maternity wear but should belong nonetheless.
———-
These specific race shorts were tested on a marathon and proved to not chafe. Something that the soon-to-be mothers will love.
In women's attempt to stay active during pregnancy, there is a common problem of having to endure tight-fitting and uncomfortable clothes. This makes it difficult for them to do even do light exercises.
Not anymore with this compiled list of running shorts.